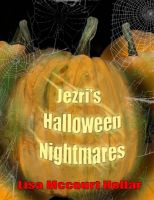 Title: Jezri's Halloween Nightmares
Author: Lisa McCourt Hollar
# of Pages: 31992 words
Publication Date: October 1, 2012
Genre: Short Stories, Paranormal
My Copy: Kindle edition from Smashwords
Average Rating: 4 / 5
My Rating: 5 / 5
Synopsis from Smashwords
A collection of 14 stories, perfect for the Holiday, along with bonus material. Collection includes, The Bainbridge Witch, The Vampire Bureau, Ol' Jack, Witch's Brew, The Dress's Curse, Retribution, Trapped, The Dragon's Claw, Hide and Seek, A Prank Gone Too Far, Temptations, Dare, Ageless and Reverie, A Graystone Manor Short.
Bonus Material gives you free sample reads of Progeny, The Second Wave: A Post-Apocalyptic Tale, Blood Lust and Undead Ahead, a collaboration of stories by Lisa McCourt Hollar and Jeffrey Hollar.
My Thoughts
I received a copy of this book from the author in exchange for an honest review.
One of the previews of the author's bonus material contained in this book is from "The Second Wave: A Post-Apocalyptic Tale," which is a story I read and reviewed last October. You can read my review
here.
After reading that story last fall, I will read anything and everything by this author--she is an amazing writer with an imagination I wish I had. :) She will take you to that dark place inside yourself where your fears run wild, and sometimes those fears are ones you didn't even know you had.
This collection of horror stories was completely satisfying and scary, and the very first one took place in Bainbridge, Ohio, not too far from where my mom's side of the family comes from! It's really freaky reading these stories with some of them set in places where I've been myself. Despite the inclusion of Halloween in the title, this is a book you can read any time of the year--I know I'm personally in the mood for horror stories no matter the season! I loved every story in this collection, but there were a couple that stood out for me and became my favorites, one of which being "A Prank Gone Too Far." I'm excited and in anticipation of more scares from this author!
Find the author:
Goodreads
Website
Twitter
Facebook
Buy the book:
Smashwords
Amazon
Barnes & Noble